Summer 1984
: One year after intermediate examinations I manage to take
two months
off my studies to have a dream come true, cycling to the North Cape (norwegian:
Nordkapp
). Sure, travelling more than
3600 miles
to the north of Norway is not everybody's delight. Temparatures are expected to be low and the weather to be unsteady. However, at the end of this journey I may declare the Scandinavian weather beeing not as bad as its reputation.
*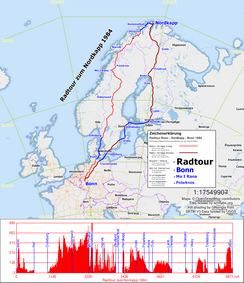 On the
4th of july
I am ready for take off. That time my bike is one of the oldest and heaviest bikes that have ever been seen on their way north. However, if you don't worry about mending the chain you might call it quite reliable. About 20 kg of additional weight has to be carried: A tent, sleeping bag, camera (
Olympus
OM 2), 11 color films (300 slides) and other equipement. On this trip, that does not cost more than DM 1800.- (i.e. £ 600.- that days), I ruin a shirt, a jeans, a cycle chain, a tyre cover and not less than 9 spokes. Though the bike never has a puncture.
*
One of the most important things I carry with me is my pipe. I can't count the number of midgets killed by the smoke of it. This way I keep my tent clean of those very common tormentors, that are said to be the greatest danger you can face up north. Maybe for that reason I shall quit smoking about ten years later...
*
I do not carry an alarm-clock with me. That turns out to be wrong and forces me into waiting for ferry boats all through the night. But I do carry a
diary
, today of great value beyond any doubt. It is the very reason why I am able to write this story today, about 15 years after ...