Zermatt
The new skiing area after 2006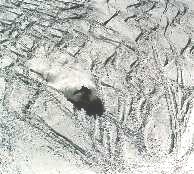 The union of the different cable car organizations of Zermatt in february 2002 will change (and has already changed) the further use of the skiing area. 80 Mio. swiss francs shall be invested within the next four years to provide better quality of transport. The time sheet as already been reprinted as there are obvious problems. There are rumors that not all of the new lifts and slopes have gone through a correct official suit.
*
The lift towards
Schwarzsee
, called
Matterhon Express
, has already been improved, however, it is influenced by wind far more than expected. The middle station is so exposed to the valley of Zermatt, that it ruins the sceenery more than
I
expected.
*

The main thread is that the
Zermatt Bergbahnen AG
will reduce the need for the rack railway and change the following items:
The White Hare will directly be connected to the slopes at Gornergrat (and therefore Furi),
Furri has already been connected to the Kelle (and therefore Gant), getting the Matterhorn area nearer to the other parts of the skiing area, see our counterclockwise «Zermatt in a day (2007)» for details.
Zermatt-Furi-Schwarzsee will be made the main axis from Zermat to the Matterhorn area, a plan that was born wild as the Schwarzsee area consists of slopes either very difficult or more or less rediculous.
Smaller and older lifts and cable cars will vanish. The
Garten
lift is already gone - and what is left is a wide slope without challenge any more.
*
The future use of Stockhorn «is yet to be defined». The permission for the current cabin will run out in 2007. This hurts, as without
Stockhorn
and
Triftji
Zermatt is but a place of medium interest, one of many average skiing areas of the alpes, beautiful but boaring for the skilled skiers.
*
The reputation of Zermatt lies grounded in the difficult slopes around
Stockhorn
and
Triftji
and their skillful skiers. In former times, all the world of skiing used to distinguish between skiers in Zermatt and those in Ischgl, for example. Who sacrifies
Stockhorn
and
Triftji
to optimize the area for many average skiers will ruin the single charakter of one of the most interesting skiing areas at all. There are first bad signs. He who will not believe me should watch the behaviour of the tourists at the Gondola at Gant on a busy day.